Archive for the 'Math' Category
By Lily Bui November 30th, 2013 at 3:57 pm | Comment
Remember the game Mouse Trap? For those of you not familiar with it, Mouse Trap is a board game in which players build a contraption, using various tools and materials, in order to capture a toy mouse on the run. Players often build creative, elaborate traps that operate in various stages, with each distinct stage setting off a another. The game is based on the concept behind Rube-Goldberg machines, devices that perform a very simple task but require an elaborate chain reaction to operate between start and finish. Just like in Rube-Goldberg machines, the value of Mouse Trap is very much in the journey, not the destination.
Now, imagine an even larger version of this game, without the mouse. This is the MIT Museum's annual Friday After Thanksgiving: Chain Reaction event. Aptly shortened to F.A.T. for the Friday After Thanksgiving, the event is an innovative way to get families out and about after Thursday night's collective feasting. This year, the Chain Reaction took place at the Rockwell Cage Gymnasium on MIT's campus and was attended by approximately 2,000 people.
Here's how it works. Each year, the MIT Museum invites its community to join the event as spectators or participants. Participants and teams build individual sections of a larger chain reaction. The aim is to be as creative as possible, and believe me when I say that participants take this creative license very seriously. Upon strolling around the basketball court-sized area set aside for the entire machine, I spotted everything from action figures, straws, water balloons, Arduino robots, monkey wrenches, bicycle wheels, legos, Daleks, and yes–even mouse traps.
Because the event is open to anybody and everybody, participants every year range from Girl Scout troops to artists and engineers, from MIT clubs to high schools and family teams. Teams have also come from as far away as Michigan and California to contribute. This year, artist/inventor Arthur Ganson and local artist/MIT alumnus Jeff Lieberman both emceed the event.
The F.A.T. Chain Reaction event is not only a creative way to get the family together during the Thanksgiving holiday season, but it's also an opportunity for kids (ages one to ninety-two) to engage and experiment with the basics of engineering. Who knows? Perhaps participating could set off a chain reaction that results in even more collaborative citizen science in your future.
You can view a live video of the 2012 Chain Reaction below (2013 video forthcoming):
---
Lily Bui is the Executive Editor of SciStarter and holds dual degrees in International Studies and Spanish from the University of California Irvine. She has worked on Capitol Hill in Washington, D.C.; served in AmeriCorps in Montgomery County, Maryland; worked for a New York Times bestselling ghostwriter; and performed across the U.S. as a touring musician. She currently works in public media at WGBH-TV and the Public Radio Exchange (PRX) in Boston, MA. In her spare time, she thinks of cheesy science puns. Follow @dangerbui.
By Jenna Lang November 19th, 2013 at 3:20 pm | Comment
We've updated and reposted this Thanksgiving Day treat,  from Lily Bui!
Dig into this serving of Thanksgiving projects with your friends and family!
Western Monarch Thanksgiving Count
Help researchers take census of winter Monarch butterflies. Count Monarchs in colonies, during the mornings around Thanksgiving. Get started!
Thanksgiving Day Western Bird Count
Help monitor winter bird populations in Western states. Count birds within a 15-foot area, anywhere in the Western states, for one hour on Thanksgiving Day. Get started!
Panamath
Ready for dessert? How about some Pi? Test your own number sense, or download this software and adapt it for your own research or educational purposes. Get started!
Walk off that big meal while improving the health of your local beach. This app will allow you to check in when you find trash on our coastlines and waterways. Get started!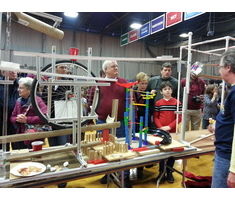 MIT Museum Friday After Thanksgiving Chain Reaction
What is the Friday After Thanksgiving Chain Reaction? A grand event that could only happen at MIT! Participants link their chain reaction devices together forming one mega chain reaction – set off at the end as the event's thrilling culmination. More than 1,500 people attend this fun-for-all-ages "extreme" event! Get started!
---
Happy Thanksgiving from the SciStarter team!
If you'd like your citizen science project featured on SciStarter, email jenna@scistarter.com
By Carolyn Graybeal January 14th, 2013 at 7:44 am | Comment
Do you just "get" numbers? Or have they always left you a little baffled? Now you can test this observation and quantify your number sense.
Number sense is our "gut knowledge" of numbers' magnitude, their relationships, and even basic arithmetic. Number sense is thought to be innate, potently present as early as infancy. But while we all have it, we are not made equal. Individuals vary in the accuracy of their number sense. In other words, some people are better at guessing than others. Scientists think that such differences could relate to an individual's mathematical aptitude.
To explore this further, researchers at John Hopkins University developed a number discrimination test, available for free online. The 10 minute test is straightforward. Yellow and blue dots flash onto a screen and you have to guess if there were more yellow or blue dots. After, the program provides a report of your performance and a comparison to others in your demographic.
Already researchers around the world have used this tool to explore different aspects of and factors relating to number sense. The John Hopkins developers have also created a package for educators that includes instructions for administering the test and guides for data analysis.
Curious to learn more? Test yourself!
Photo: USAF
By John Ohab December 31st, 2010 at 4:10 pm | Comments (2)
Which citizen science projects in our Project Finder were the most visited in 2010? Check out the top 10! Is your favorite on this list? If not, tell us about your favorite citizen science project(s) on your very own (free) member blog!
Foldit is a revolutionary new computer game enabling you to contribute to important scientific research. Researchers are collecting data to find out if humans' pattern-recognition and puzzle-solving abilities make them more efficient than existing computer programs at pattern-folding tasks. If this turns out to be true, researchers can then teach human strategies to computers and fold proteins faster than ever!
Keep track of the fish you see while scuba diving or snorkeling, and submit those observations to an online database. You can start anytime, with or without a training class, as long as you can POSITIVELY identify the fish you see. This is a worldwide program for Pacific Coast, Tropical Eastern Pacific, Tropical Western Atlantic, Hawaii, and northeast U.S. and Canada.
Project Squirrel is calling all citizen scientists to count the number of squirrels in their neighborhoods and report their findings. The goal is to understand urban squirrel biology, including everything from squirrels to migratory birds, nocturnal mammals, and secretive reptiles and amphibians. To gain data on squirrel populations across the United States, citizen scientists will also be asked, when possible, to distinguish between two different types of tree squirrels – gray and fox. Anyone can participate in Project Squirrel!
Moon Zoo invites you to help astronomers count and analyze craters and boulders on the surface of the moon. You will examine images from NASA's Lunar Reconnaissance Orbiter, which show the lunar surface in remarkable detail, including features as small as about one and a half feet across. While exploring the lunar surface, who knows what else you might find.
Texas Bee Watchers aims to increase awareness and knowledge of native bees in Texas. In 2010, the Bee Watchers are challenging Texans to plant 52 Bee Gardens in 52 Weeks. To watch native bees, you only need to find some blooming plants. Once you see these hard-working insects, you may want to try catching a few native bees with a net, cooling them down in an ice chest, and looking at them close-up. Or maybe you'll want to practice your photo skills and photograph them? Sounds fun? It is!
The Acoustics Research Centre at the University of Salford is building a sound map of the world as part of a new study into how sounds in our everyday environment make us feel. They're asking people across the world to use their mobile phones (or another audio recording device if their phone is not compatible) to record 10 to 15 second clips from different sound environments, or "soundscapes"–anything from the inside of a family car to a busy shopping center. Then, volunteers upload the clips to a virtual map, along with their opinions of the sounds and why they chose to record those particular sounds.
Join Stardust@Home in the search for interstellar dust!  On January 15, 2006, the Stardust spacecraft's sample return capsule parachuted gently onto the Utah desert. Nestled within the capsule were precious particles collected during Stardust's dramatic encounter with comet Wild 2 in January of 2004; and something else, even rarer and no less precious: tiny particles of interstellar dust that originated in distant stars, light-years away. Together, you and thousands of other Stardust@home participants will find the first pristine interstellar dust particles ever brought to Earth!
Help researchers map the location of graveyards around the globe and then use marble gravestones in those graveyards to measure the weathering rate of marble at that location. The weathering rates of gravestones are an indication of changes in the acidity of rainfall between locations and over time. The acidity is affected by air pollution and other factors, and could be used as a measure of changes in climate and pollution levels.
Firefly Watch combines an annual summer evening ritual with scientific research. Boston's Museum of Science has teamed up with researchers from Tufts University and Fitchburg State College to track the fate of these amazing insects. With your help, the project aims to learn about the geographic distribution of fireflies and their activity during the summer season. Fireflies also may be affected by human-made light and pesticides in lawns, so researchers hope to also learn more about those effects.
Tech musician Stephen Hobley's laser harp was the most popular project in our Project Finder. After building your laser harp, you'll coax out the computer-generated sounds by waving your hands to break the light beams and change their lengths. We first found out about Stephone's harp in recent issue of Make magazine that was devoted to build-them-yourself, high-tech musical instruments. Sounds awesome, huh?
By Susan West April 17th, 2010 at 4:00 am | Comment

If you ever needed convincing that math is beautiful, this movie by Spanish graphic animator Cristóbal Vila will do the trick.
Set to a haunting piece by Belgian minimalist composer Wim Mertens, "Nature by Numbers" brings to life some of the fundamental math concepts that connect art and nature. Vila starts his exploration with the Fibonacci sequence, a well-known series of numbers that starts with zero, then one, then the sum of each of the previous two numbers (0 + 1 = 1; 1 + 1 = 2; 1 + 2 = 3, and so on). From there, he shows how the Fibonacci sequence gives birth to natural shapes such as the spiral, illustrates the harmonious proportions produced by the Golden Ratio, and uses sunflowers and insect wings to demonstrate the Golden Angle and Voroni Tessellations.
Fortunately, he also provides an explanation of the concepts behind the beauty. It's enough to make you sign up for a calculus class.